The Magpies are riding high on league and cup optimism all thanks to the Spaniard's unexpected decision to stay
Rafa Benitez faced an extremely difficult decision at the end of last season. He'd signed a three-year contract at Newcastle United with 10 games left in 2015-16, but a break clause allowed him to leave in the summer if he didn't fancy the job full-time.
When Newcastle's fate was sealed (by arch-rivals Sunderland, to pour salt on the relegation wound), nobody expected Benitez to stay at St James' Park. Here was a Champions League winner – a man who six months earlier had been head coach of soon-to-be European champions Real Madrid – being asked to slum it out in the second tier of English football.
Nobody would have blamed him if he'd walked out for sunnier climates or an easier gig. Newcastle had been driven to Premier League extinction by owner Mike Ashley, and the hatred that existed between the club and the fans was so toxic that it had unquestionably contributed to their downfall.
But, against perceived wisdom, Benitez stayed. A massive fanbase, a wealthy owner and, most importantly, being given total control behind the scenes swayed him to do the unthinkable and remain at Newcastle. "There are a lot of good people here at the club," Benitez said of his decision a few weeks ago. "But they needed to have an idea to follow – now they have an idea, and a path to follow."
That decision to stick with Newcastle when he could've fled instantly gave him demigod status on Tyneside. While Alan Pardew and Steve McClaren had been unpopular hires who only became more unlikeable, Rafa arrived to affection and ascended to total adoration in the space of a few months.
While Newcastle had convinced Benitez to stay, the club knew they needed a player cull – for financial reasons and rational ones. Out the door went prized assets (Daryl Janmaat, Georginio Wijnaldum, Andros Townsend), over-the-hill veterans (Papiss Cisse, Fabricio Coloccini), and overrated one-trick-ponies that turn up twice a season (looking at you, Moussa Sissoko).
Crucially, though, while Newcastle shipped off dozens of high profile faces, they also spent £55 million on transfer fees – more than double Real Madrid's expenditure in the summer. Bournemouth captain Matt Ritchie, Crystal Palace forward Dwight Gayle, Hull City midfield maestro Mohamed Diame, Tottenham full-back DeAndre Yedlin, Arsenal defensive midfielder Isaac Hayden and Blackburn defender Grant Hanley were the top transfer coups.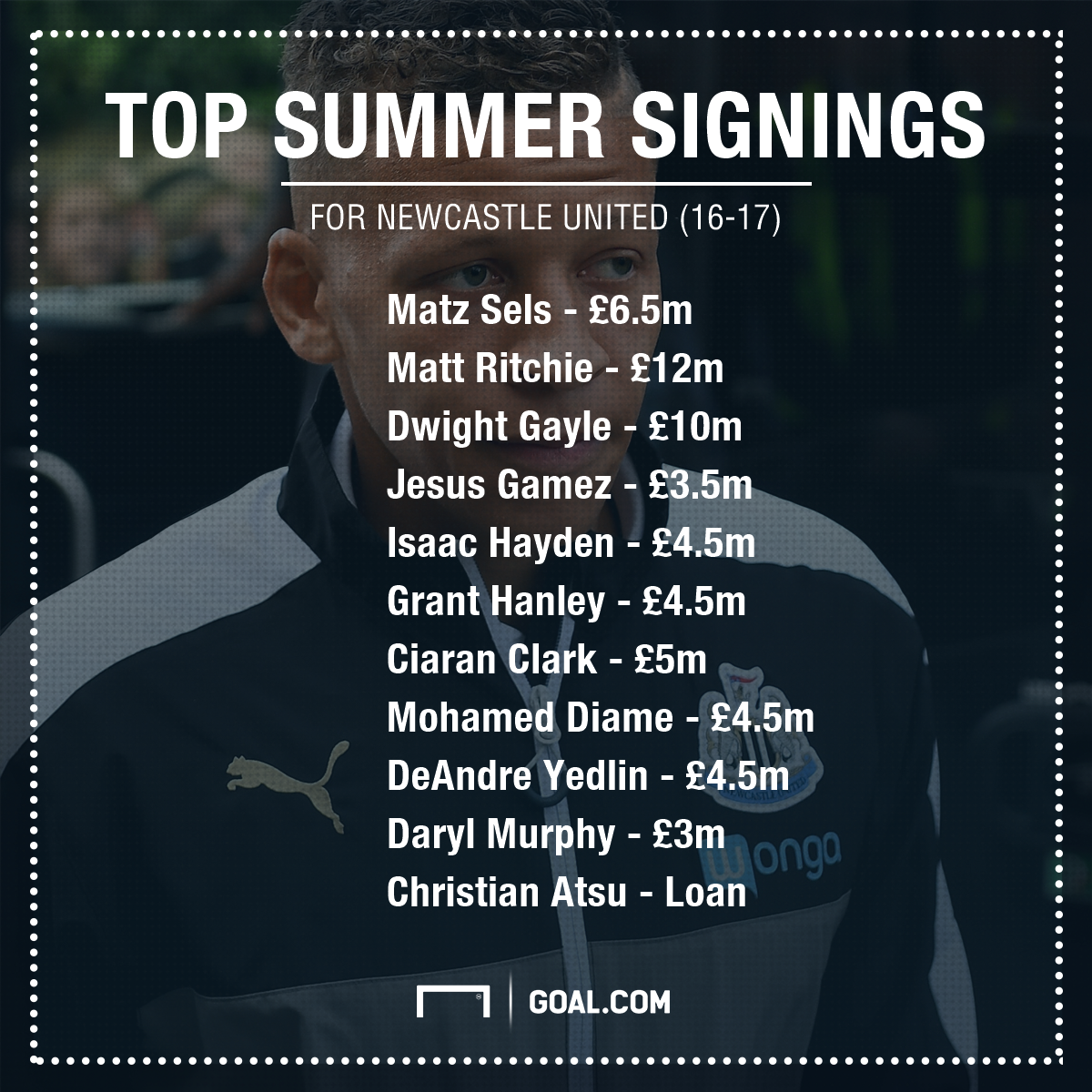 Benitez had revamped Newcastle's squad but, when they lost their opening two games to Fulham and Huddersfield Town, some started to wonder if the maverick Spaniard had gone too far. That such a radical squad transformation could backfire and the club would spiral into a lower tier limbo fellow fallen giants Leeds United are acquainted with.
Five league wins on the bounce quickly silenced Benitez's naysayers. After the final game in the month-long win streak, a 6-0 battering of QPR, he said: "When you win you go back happy, if you win this way you go back happier." That happiness was infectious and Newcastle were playing with a swagger glimpsed in their destruction of title challengers Tottenham on the final day of last season.
After a brief two-game blip, another five league victories in the league followed to propel them above surprise contenders Huddersfield and into top spot in the Championship. "It feels like people are pulling in the same direction now," workhorse midfielder Jack Colback, who is a frequent figure in Rafa's starting line-up, said at the start of October. "Once the fans got over the disappointment of relegation they just want to see the team winning and playing good football and we're managing to do that."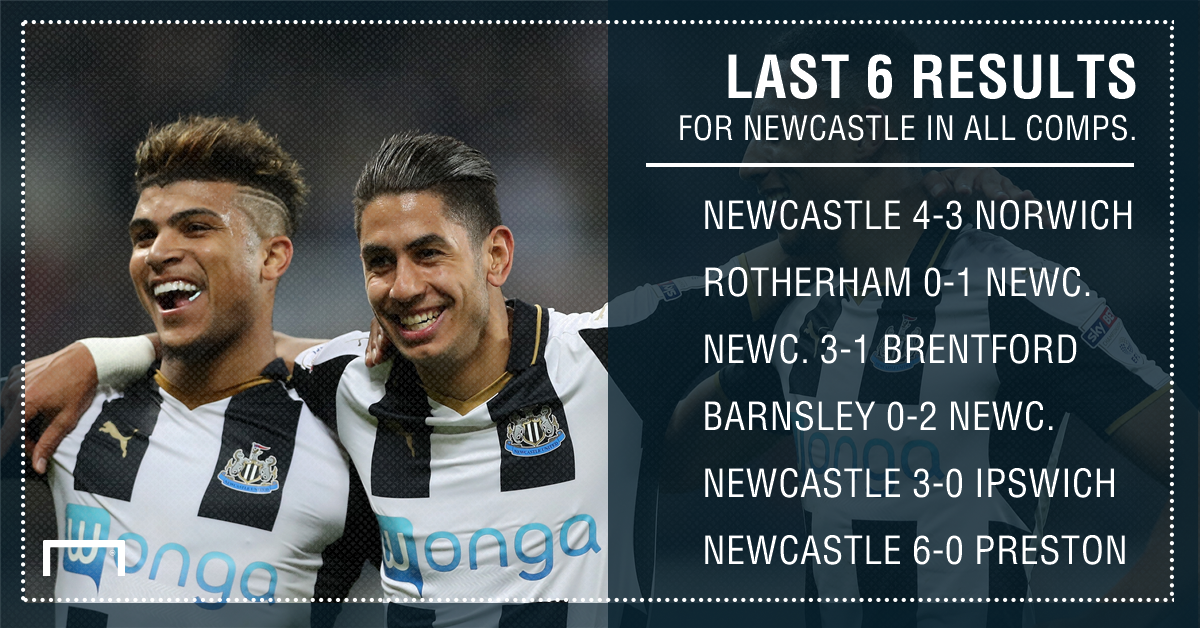 Benitez, famed for his love of squad rotation, is making the most of his outstanding squad, but there are certain standouts. Right midfielder Ritchie has been fantastic and worth every penny of the £12m Newcastle spent to sign him. After a shaky start, fellow new face Gayle has hit a hot streak to top the Championship's goalscoring charts.
Benitez made Jamaal Lascelles his new captain and the 22-year-old has looked a completely different centre-back to the one who never looked comfortable last season. In front of him, Jonjo Shelvey is a class above most of those in the division, as has Arsenal reject Hayden, who acts as a rock solid sentry in front of Newcastle's back four.
Even those on the periphery, such as Aleksandar Mitrovic, have risen to the challenge when given the chance. The young Serbian striker has become a fan favourite and was eagerly compared to club legend Peter Bearsdley on Twitter after he tore Preston North End apart in Tuesday's 6-0 EFL Cup thrashing at St James' Park.
Preston manager Simon Grayson, who made nine changes to his side for the cup tie compared to Benitez's seven swaps, was magnanimous at his team's steamrolling. "It was a horrible night," he said, "exceptionally disappointing – but Newcastle have exceptional players. They were magnificent but they've got a manager who, this time last year, was at Real Madrid and they're geared for success." On Saturday he'll have to rally his ninth-placed troops to battle Newcastle again. "It will be different," Grayson promised. "I'm not going through that again."
The last two times Newcastle were in the second tier, they cruised to the title with a massive goal difference, and that's exactly what they're on course to do this time too. The world laughed at Benitez six months ago when he chose to stay, but Newcastle so-called Rafa-lution is full flow – and he's the one looking likely to have the last laugh.